Silicone Breast Implant Removal with Breast Implant Exchange
Breast augmentation is one of the most requested cosmetic procedures among women. Achieving your ideal breasts can significantly improve your confidence and provide more clothing options.
Schedule a Consultation
Over time, breast implants may need to be removed and can be replaced with different implants. The breast implants can be larger, smaller, wider, or more narrow. The breast implants can be round or teardrop in shape. The breast implants can have a smooth surface or a textured surface. The breast implants also come in different densities from soft to more form. Breast implant exchange can help improve your bust and create a new look simply by removing your current breast implants and replacing them with new breast implants.
Candidates
Many patients decide to replace their breast implants due to a lifestyle change or to switch the material of their implants. In the event of a rupture or medical concern, the implants may require removal. If you want to replace them with new implants, then a breast implant exchange may be right for you. Dr. Ip can assess your current breast situation and discuss your concerns and preferences to create a customized surgical plan to achieve your goals.
Surgical Process
Pre-operative
Patients are advised to get prescriptions filled before their surgery and prepare a comfortable area of their home for relaxing while they recover. You will need a loved one to take care of you for the first few days, including any household tasks that you are not able to complete during your recuperation. You will need plenty of water and comfortable pillows and may want to keep books, magazines, electronic devices, and your phone nearby to keep you occupied.
Your Procedure
Your silicone breast implant removal with breast implant exchange procedure may take between one and three hours, depending on which techniques are involved. Some patients may request a breast implant exchange along breast lift to improve the appearance of the bust by raising the breast nipple position on the chest and tightening the excess loose skin.
Dr. Ip administers general anesthesia so that patients have a comfortable and safe surgery. Incisions are often made in the same location as the primary breast augmentation, and the implants are removed. Additional procedures are performed as desired, and the incisions are closed using sutures.
Recovery
Mild pain and discomfort are normal and should reduce within a few days. Compression garments or a surgical support bra can help support your new breast contour and reduce swelling and bruising. You should avoid strenuous physical activities for up to six weeks or until Dr. Ip clears you to exercise again safely. You will be given post-operative care instructions that should be strictly followed. Regular light activities and work can be resumed after one or two weeks.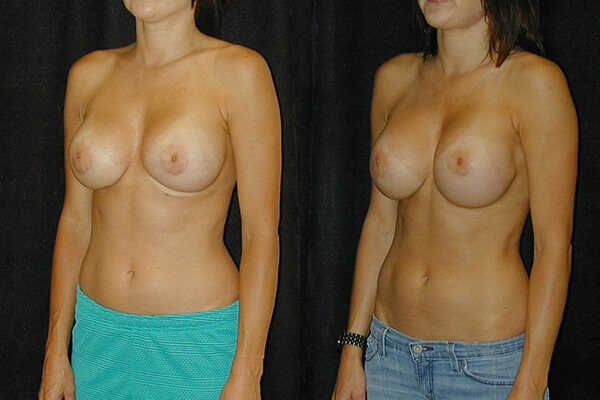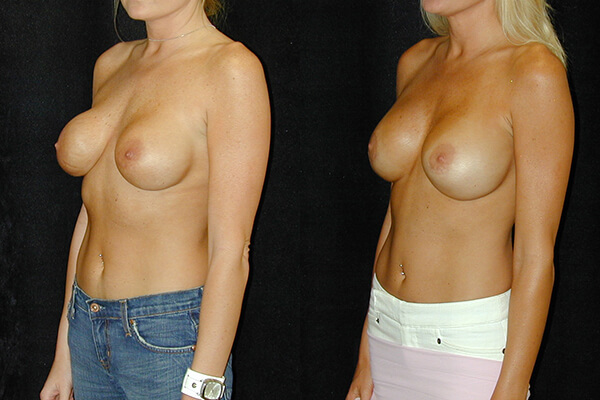 Frequently Asked Questions
Should I undergo breast implant exchange?

Although implants are robust, issues can arise over time and they do not last forever. Implants can be removed with or without exchange. During your consultation, Dr. Ip can discuss your desires and concerns to create a surgical plan.

Am I at risk of developing Breast Implant Illness if I have my implants replaced?

At this time, Breast Implant Illness (BII) is not an official medical diagnosis. Some women have reported symptoms that they believe are related to their silicone implants, but as yet, there is no definitive proof. If you have any concerns about your silicone breast implants, we encourage you to speak with Dr. Ip about during your consultation.

What results should I expect?

When the breast implants are removed, they can be replaced with either new implants. You can also opt for a breast lift to address asymmetry and excess skin. Your desired results are unique, and Dr. Ip can provide a satisfying, long-lasting outcome.

Does health insurance cover breast implant exchange?

Health insurance does not usually cover breast implant procedures. If you are having your silicone implants removed due to medical reasons, then it is possible that your policy may provide coverage. Call your health insurance provider to learn more about your benefits and coverage.

Can BIA-ALCL be removed?

As stated by the American Society of Plastic Surgeons, all reported cases to date of BIA-ALCL that is limited to the scar tissue surrounding the breast capsule and treated with complete surgical excision have been fully cured.